OBX Restaurants
Whether you are vacationing or just visiting the Outer Banks, your appetite for good food is sure to accompany you. Although the Outer Banks may seem a little remote, world class culinary delights are created with unique ingredients from this area. The atmosphere here is very laid back and offers the very best from funky to family style. The seafood here is fantastic! You will find mahi-mahi, oysters, striped bass, clams, crabs, and much much more on the fresh catch menu's. Many of the Outer Banks restaurants are staying open longer in the fall and opening earlier in the spring as well as those open year round. There a lot of restaurants that do not take or require reservations. Of course, for those that do, you may want to reserve anywhere from 3-5 days in advance to assure yourself a table because they get booked up fast in the summer months.
Below are some of the many fine restaurants available to you in the Outer Banks that are only minutes from our Outer Banks rentals.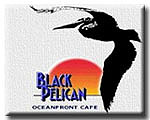 Home to the Black Pelican Oceanfront cafe and constructed in 1874, the Kitty Hawk Lifesaving Station was one of the seven facilities of its kind existent on the North Carolina Coast. Today, the

legend

of the Black Pelican lives on as a noteworthy stop for you Outer Banks dining pleasure. Kitty Hawk's Favorite Legend … and the Outer Banks Best Place to Dine. The Black Pelican Oceanfront Caf' is located at Milepost 4, Beach Road, Kitty Hawk, NC Phone:252-261-3171 or you can email them at:
info@blackpelican.com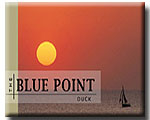 Today, as always, the food at The Blue Point is deeply rooted in the South. Over the years we have refined a style of cooking that has come to be known as "Southern Coastal Cuisine". Our style of food is cutting-edge, while retaining a high "comfort factor". Lunch and dinner year-round overlooking the Currituck sound from the waterfront shops in Duck, North Carolina. The months of June, July, August and September are extremely busy on the Outer Banks. The Blue Point accepts Dinner Reservations up to one month in advance: (252) 261-8090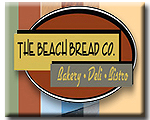 On the beautiful sandy beaches of the Outer Banks in historic Kitty Hawk, there is only one place you can relax in the casual fine dinning atmosphere of a New York style deli. You can enjoy the variety and quality of great coffee and tea, delicious breads, soups and sandwiches. Only one place on our sun soaked shores offers all of this and more, The Beach Bread Company.252-261-7711 712 North Croatan Hwy Kitty Hawk NC 27949Mile Post 4.5 on the Bypass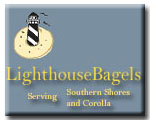 For 4 years we have been the premier breakfast and lunch restaurant on the Outer Banks, serving the freshest, most delicious bagels, breads and baked goods available anywhere! Lighthouse Bagels has 2 locations on the Outer Banks of North Carolina. Both stores offer our breakfast grill, baked goods, Boars Head deli and our friendly staff. Corolla location is at 807 Ocean Trail Monteray Plaza (252) 453-9998 and Southern Shores location is at 5549 Croatan Highway, The Market Place at Southern Shores (252) 255-2888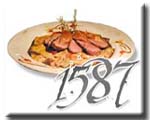 Here you will find World-Class chefs who blend the freshest of ingredients including herbs grown from the Inn's own gardens, Today's Atlantic seafood, meats and fowl, and vegetables from the Outer Banks' finest growers. You'll dine in an atmosphere that is elegant but relaxed as you gaze through the large windows that frame a view of quaint Shallowbag Bay and a moonrise that is truly spectacular! The producers of Food Network's "Best Of" featured 1587's creations as the ultimate in Outer Banks dining. Reservations:(252) 473-1587
Chilli Peppers in Kitty Hawk, NC, serves their signature Crispy Half Duck with a caramelized onion bread pudding and roasted herb potatoes, finished with a sundried cherry maple syrup glaze. Absolutely delicious! Looking for great food and atmosphere on the Outer Banks? Don't Miss Hot Food for Cool People or Mild for the Wild! At Chilli Peppers Restaurant we dish up foods from around the world, from burgers to fiery regional dishes. Located at Mile Post 5 1/2, Kill Devil Hills. (252) 441-8081 or email us at orders@chilli-peppers.com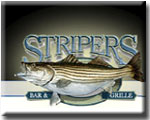 Stripers Bar & Grille is a premier service orientated restaurant welcoming all guests to a casual fun filled dining experience. Our Outer Banks cuisine will always be offered to our customers for lunch, dinner, brunch and in house catering, with a capacity to serve up to 160 people. Two convenient Outer Banks locations to serve you. In Corolla: Monteray Shores Plaza in the parking lot. In Manteo: Shallowbag Bay on the Roanoke Sound. Come visit us by boat or car. Guest boat slips are available for dining customers. (252) 473-3222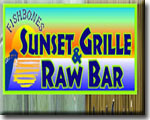 An Outer Banks vacation isn't complete without a visit to Sunset Grille in the village of Duck. Located on the Currituck Sound, Fishbones Sunset Grille gets its name from the panoramic views of spectacular sunsets over the calm waters of the Sound. A breathtaking experience just about every evening. Inside and outside, our decor is a mix of Caribbean Joe, Jimmy Buffet, and Outer Banks eclectic. Don't let your next Outer Banks vacation go by without experiencing Sunset! We are located at 1264 Duck Road ~ Duck, NC (252) 261-3901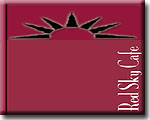 The Red Sky Cafe features local foods and eclectic styles of preparation. Our casual atmosphere lets you feel at home with a generous portion of unique flavors and friendly faces. We hope to deliver a memorable dining experience. Thanks for the opportunity. Catering also available in the Outer Banks from Red Sky Catering, Wes and Cindy allow you to focus on your guests and enjoy the celebration. Priority seating is available for our guests, call ahead and give us the time you prefer to be seated.(252) 261-8646 or email web@redskycafe.com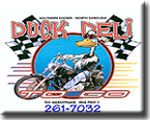 At the Duck Deli To Go we specialize in authentic, hickory smoked BBQ Ribs, Chicken, Beef, Pork, and Wings, using the legendary Duck Deli recipes! We smoke all our BBQ daily in our on-site smoker and everything is freshly prepared daily! Many of our customers tell us we have the best BBQ on the beach, we love to hear that! Come on in and find out for yourself. We're opened 7 days a week, 11-8 (Monday to Thursday) and 11-9 (Friday, Saturday, and Sunday). Located at Mile Post 1 in Southern Shores. (252) 261-7032.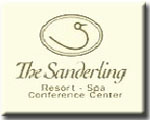 The Sanderling give three fabulous options for dining out. The Lifesaving Station Restaurant – The menu emphasizes the best in fresh local seafood with daily seafood specials. The Left Bank – The Sanderling's breathtaking formal dining room, located on the sound side of the resort, offers spectacular views of the Currituck Sound. The Pine Island Diner – Located next to The Hampton Inn and Suites in Corolla. Come on and bring the entire family for a unique dining experience!Serving Lunch and Dinner. For more information call (252)261-4111.