OBX Info
The Outer Banks of North Carolina, where a world of exciting things to do and see are wrapped into one family-friendly vacation spot! Saddle up for a horseback ride along the beaches of Corolla and Buxton, or hang glide from atop the east coast's largest sand dune, Jockey's Ridge. For the nature lover, the Outer Banks offers Kayak eco-tours, hiking, canoeing and bird watching at one of the many wildlife sanctuaries.
Take a scenic drive south to Hatteras Island, where you'll find some of the best fishing and miles of un-crowded beaches. Don't forget to visit the Cape Hatteras Lighthouse in Buxton and catch the ferry to historic Ocracoke Island. A visit to Manteo on Roanoke Island is a combination of history and shopping that's fun for the whole family.
Enjoy shopping and fine dining along the Waterfront and take a short walk to the Elizabeth II State Historic Site. Learn stories from the past at The Fort Raleigh National Historic Site, where each night the drama of The Lost Colony is reenacted in the nation's oldest outside theater. And of course, a visit to the Outer Banks would never be complete without seeing the Wright Brothers National Memorial, the site of the first powered airplane flight on December 17th, 1903.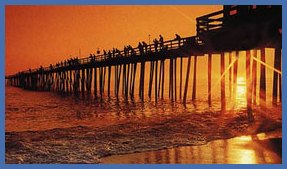 The Outer Banks is a perfect destination for children of all ages. Children can enjoy water activities from Corolla to Hatteras Island, including kayaking with Kitty Hawk Kayaks or Outer Banks Outdoors, or a variety of water sports at The Promenade in Kitty Hawk. The Waterworks is the place for parasailing high above the sound, windsurfing and dolphin wetland tours.
On Hatteras Island, enjoy Waterfall Action Park; activities for everyone, from bungee jumping and malibu speed racers to bumper boats and waterfall slides. For kids who like to keep their feet dry, there's the North Carolina Aquariums located on Roanoke Island in Manteo. Here you can see sharks, eels, sea turtles, and alligators, Enjoy the hands on exhibits, which give you the opportunity to touch live crabs and seastars. The aquarium also offers craft workshops and a gift shop.
Hang gliding atop world-famous Jockey's Ridge, or maybe just climbing up to the top and rolling back down are favorite Outer Banks activities for all ages. Bowling and miniature-golf are also available at the Outer Banks.
And don't miss The Beach Bus. Hop on one of these antique London double-decker buses for the tour of your choice, ranging from Legends and Lighthouses to The Lost Colony. Kids will love it!